Description
Sega Master System Dual Frequency Oscillator (DFO) Mod Kit
The Sega Master System Dual Frequency Oscillator provides an NTSC and PAL master clock oscillator in one.
Compatibility
Only compatible with consoles with a 4-pin oscillator.
Sega Master System – PAL / VA3 / 171-5535-10
Sega Master System 2 – PAL / IC BD M4 Jr / 171-5922A
Sega Master System 2 – PAL / IC BD M4 Jr.PAL 2M / 171-6395A
No NTSC Master System contain a 4-pin oscillator.
NOT compatible with Mega Drive due to the reversed switching logic of a Master System.
Is there much use for this in a Master System console?
When installing a DFO into a Mega Drive, as well as providing correct clocks, the system will switch the RGB Encoder between PAL and NTSC as well as change the subcarrier clock accordingly, this results in proper PAL and NTSC colour encoding and colour over composite video. A Master System is not set up in this way. The RGB encoder is usually locked to either PAL or NTSC and the subcarrier clock is set to either PAL or NTSC with no way of switching between them.
Installed into a standard PAL Master System 2 the DFO will result in correct timings for the IO chip, VDP, and CPU for both 50Hz and 60Hz region settings. However, if using composite video, only 50Hz region setting will show colour. This might not be desirable for some people.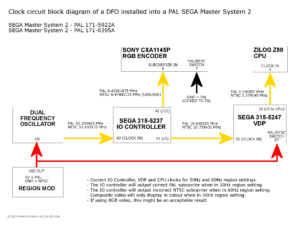 For those that want to use composite video and don't have a TV that is compatible with NTSC, keeping the standard clock circuit will give PAL50 and PAL60.
If you have a PAL Master System 2 and want a system that has full PAL and NTSC compatibility, the RGB Encoder Switcher mod will need installing along side the DFO.
This turns the PAL Master System 2 into a real PAL and real NTSC console which was never previously possible until I designed the RGB Encoder Switcher. This would be the main reason for wanting a DFO installed.
More details coming soon.